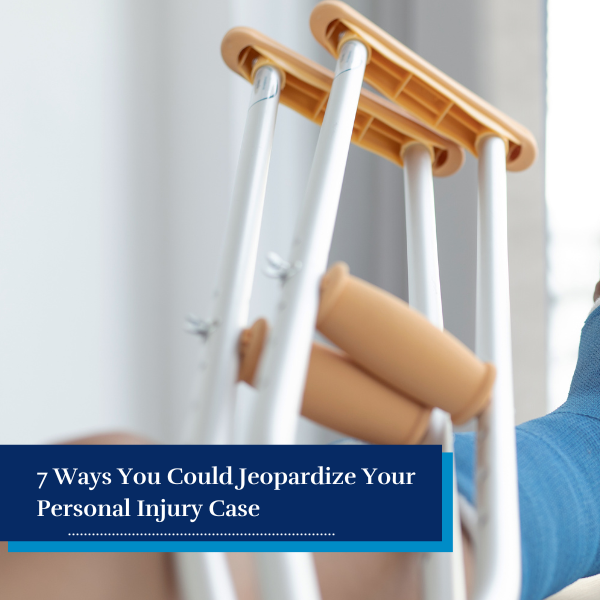 If you have been injured due to someone else's negligence, it's essential to remember that their insurance company is not on your side. Rest assured that if there is any reason—even a minor one—to minimize or even invalidate your claim, the insurance company will find that reason and use it against you. That's why it's so important to know the common mistakes people make when dealing with their personal injury cases. It's also why hiring an experienced Durham personal injury lawyer is the most effective way to demand full and fair compensation for your injuries.
Below is a list of the most common mistakes people make while pursuing a personal injury claim:
Admitting fault — After an accident, you may feel shaken and emotional. You may also be tempted to say "I'm sorry," especially if the at-fault person is injured as well. Avoid statements like this, especially to police officers and individuals involved in the accident. Any admission of fault from you, even the slightest, can appear in a police report and eventually be used to attempt to prove that you were at least partially at fault for the accident.
Not gathering evidence at the scene of the accident — If it's a car accident, be sure to call the police and get a police report and a driver exchange form, which will contain the other driver's insurance information. If it's a work accident or a slip-and-fall accident at a business, be sure an incident report is filled out and that you get a copy. In any situation, it's a good idea to take photos or videos of the scene, any vehicles involved, and your injuries. The more evidence you have, the stronger your claim will be.
Not getting medical care right away — Visit the emergency room or an urgent care center immediately after the accident if possible, even if your symptoms are very minor. The severity of some injuries is not immediately apparent. A medical provider can evaluate you and inform you of injuries that you may not feel are significant yet. If the insurance adjuster sees a gap between the date of your accident and the date you seek medical care, the insurance adjuster may be led to believe that your injuries are not as serious as you claim or that your medical care is not a result of your accident.
Being inconsistent with your medical treatment — It is essential that you keep all medical appointments while you are recovering from your injuries and obtain medical care routinely. For example, if your primary care doctor refers you to an orthopedist, be sure to keep all your appointments until the orthopedist advises that you have reached maximum recovery. If the insurance adjuster sees that you missed appointments or had inconsistent medical treatment, they will try to prove that your injuries are not as serious as you claim, you are not taking your recovery seriously, or your medical care is not related to your accident.
Speaking with the insurance adjuster about your injuries — While it's perfectly fine to negotiate your property damage claim with an adjuster, you should never speak to an adjuster about your injuries or give a written or recorded statement about the accident without speaking to your attorney first. The adjuster will keep detailed notes on everything you say and may try to use your words to show inconsistencies or contradictions in your claim. That's why it's safer to hire a skilled North Carolina personal injury attorney who can communicate with the adjuster on your behalf while you focus on your medical treatment.
Accepting the first settlement offer you receive — After an accident, you may find yourself in a difficult financial situation. It can be tempting to take the first offer you receive from the adjuster so that you'll have some quick cash to lighten your financial burden. But keep in mind that negotiating for a full and fair settlement takes time. If the adjuster senses any desperation on your part, they may use that as an opportunity to offer you a smaller settlement than you deserve, and you may find yourself in debt to medical providers. An experienced North Carolina personal injury attorney can negotiate with the adjuster on your behalf to demand full and fair compensation.
Posting on social media — This last mistake is one that doesn't occur to many people, but it's one of the most important. It's easier than you might think for anyone, including an insurance adjuster, to find and look through your social media profiles. Avoid posting photos or descriptions of your accident, and don't respond to comments or questions about it. In fact, it's best to avoid posting altogether until your case is resolved. Even a happy, smiling selfie can be used to attempt to prove that you are not as injured as you claim.
If you've been in an accident, you may be feeling overwhelmed and wondering what steps to take in pursuing your claim. Fortunately, the personal injury attorneys at Kreger Brodish have handled thousands of cases like yours. They are ready to guide you through the process and negotiate the full and fair settlement you deserve while you rest and recover from your injuries. Give us a call or fill out a form online today to schedule your free consultation.