Common Car Accident Injuries in North Carolina

Ranging from minor fender benders on neighborhood roads to catastrophic pileups on major highways, auto accidents are a familiar and ongoing problem throughout the country. It is no surprise that a lot of car accident victims struggle to recover from some of the most common car accident injuries. If you were involved in an auto accident caused by little to no fault of your own, you should consult with an attorney as soon as possible to get started on the road toward compensation. As you focus on recovering from your injuries, your attorney can focus on securing full and fair compensation on your behalf.
Kreger Brodish LLP is standing by to help. Our experienced legal team is ready to listen to your story, evaluate the available evidence, investigate the governing law, and build the strongest case possible on your behalf. Contact us today to schedule your free, no-obligation consultation with an experienced personal injury attorney. Read on to learn more about common injuries sustained in car accidents.
Car Accident Statistics in North Carolina
Auto accidents are a familiar and ongoing problem throughout the state. The North Carolina Department of Transportation (NCDMV) reports that there were 276,026 motor vehicle crashes statewide in one recent year alone. Of these accidents, 1,653 resulted in at least one fatality, and another 74,639 resulted in at least one injury. The leading causes of these accidents included:
Drunk driving led to 12,264 total accidents, including 407 fatal accidents and 8,100 accidents that resulted in injury.
Speeding led to 16,282 accidents, including 427 fatal accidents and 8,574 accidents that resulted in injury.
Distracted driving led to 49,485 total accidents, including 165 fatal accidents and 20,722 accidents that resulted in injury.
Improper lane changes led to 64,380 total accidents, including 982 fatal accidents and accidents that resulted in injury.
According to the Centers for Disease Control and Prevention (CDC), "Americans spend more than 1 million days in the hospital each year from crash injuries." These common car accident injuries resulted in about $18 billion in lifetime medical costs in one recent year. In that same year, over 2.5 million people visited emergency departments to treat crash injuries, leaving nearly 200,000 victims hospitalized.
Common Kinds of Injuries Sustained in Car Accidents
Injuries sustained in auto accidents are as diverse as auto accidents themselves. In all cases, victims should have their injuries evaluated by a medical professional. Even minor injuries are compensable. Therefore, it is important to make sure they are well-documented in the medical records prepared by your doctor. Common car accident injuries we see include:
Traumatic brain injuries (TBIs) – These injuries range from mild concussions to serious brain damage resulting in lifelong consequences. According to the CDC, there were 190 TBI-related deaths every day in the United States in one recent year. Car accidents are a leading cause of TBIs.
Spinal cord injuries (SCIs) – These injuries can be extremely serious. Your spine serves as the central pathway connecting the nervous system spread throughout the body to the brain. An SCI anywhere along the spine can lead to full or partial paralysis from the point of injury down.
Whiplash – A whiplash injury causes microscopic damage to nerves and soft tissues in the neck and upper back when the force of the collision causes the head to rapidly jerk back and forth or side to side. Though whiplash symptoms often take days to manifest, they can cause chronic pain, stiffness, and weakness that can last months.
Facial, dental, and eye injuries – The force of auto accidents often throws victims' heads against their dashboards. This can lead to serious injuries to the face, teeth, and eyes.
Internal injuries – Depending on the nature and severity of an accident, victims may suffer internal bleeding and organ damage. From punctured lungs to ruptured spleens, these injuries can be life-threatening.
Fractured and broken bones – These are very common injuries in car accidents. From minor, localized fractures to extensive damage throughout the body, bone injuries can leave victims impaired for months. Often, they never fully recover, impacting their ability to work and general quality of life.
Sprains, strains, tears, and bruises – These injuries impact the ligaments, tendons, and muscles that hold our bodies together and give them mobility. Sometimes, they result in only minor damage. However, these injuries can also be severe and long-lasting. They should not be underestimated.
Psychological trauma – The shock of a car crash may cause an accident victim to suffer psychological trauma, such as post-traumatic stress disorder (PTSD). The psychological impact of a serious accident should also not be underestimated.
What Compensation Can I Receive for My Injuries Through a Car Accident Lawsuit?
Once fault is established in your case, you may receive a wide variety of compensation for both the economic and non-economic impact your injuries have on your life. Our legal team can help you pursue compensation for things like:
Medical treatment and rehabilitation expenses
Costs of long-term care and support for permanent disabilities
Lost wages/income from time missed at work
Lowered earning capacity if your injury results in a permanent disability
Physical pain and suffering
Scarring or disfigurement
Emotional distress
Reduced quality of life
Property repair and replacement costs
What Should I Do After Being Injured in a Car Accident?
There are many proactive steps you can take soon after an auto accident to protect yourself and your right to compensation. Take the following steps if you are injured in an auto accident:
Report the crash to the police.
Seek immediate medical attention to have your injuries evaluated, treated, and documented.
Follow your doctor's treatment plan and recommendations.
Keep copies of all bills, invoices, and receipts documenting medical expenses you incur treating your injuries and repairing your damaged property.
Gather your pay stubs and other wage documentation to calculate the lost earnings caused by your injuries.
Start a pain journal documenting your recovery, including the physical pain and emotional distress you experience each day as a result of your injuries.
Contact a car accident lawyer as soon as possible to discuss your legal options and get help preparing insurance and legal claims.
What Is the Deadline for Filing My Car Accident Claim?
In North Carolina, you normally have three years to file a lawsuit after suffering injuries in a car accident. Missing the deadline nearly always forfeits your right to seek compensation through a civil lawsuit. Therefore, you should speak with a car accident attorney as soon as possible after an accident. This will ensure that your attorney has plenty of time to build a strong case on your behalf and that it is filed before the deadline passes.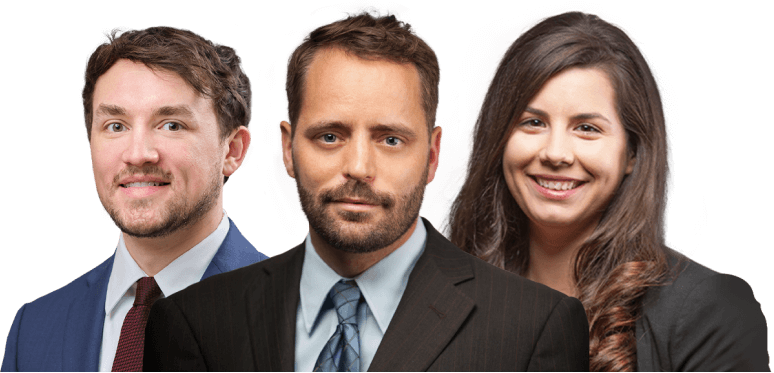 Consult With a North Carolina Car Accident Lawyer Today
If you were injured in an auto accident you did not cause, contact Kreger Brodish LLP today to schedule a free, no-obligation consultation with a skilled North Carolina car accident attorney. Our compassionate, knowledgeable legal team is standing by to help. You pay nothing unless we win your case.