Hit-and-Run Accident Lawyer in Durham, NC

Few experiences are as upsetting as getting hit by another motorist and watching them speed away without a backward glance. Yet, whether it's because of fear, carelessness, or just not wanting to deal with the consequences, thousands of drivers still flee the scenes of accidents every year in the U.S. If you're struggling to get back on your feet after a hit-and-run accident, you know how devastating these wrecks can be.
At Kreger Brodish LLP, our North Carolina injury lawyers are here to help you get back on your feet and regain financial stability after a hit-and-run accident. We have secured favorable outcomes for countless local crash victims and are ready to take on your case now. Contact us today to discuss the details of your case in a free initial consultation. 
What Is a Hit-and-Run Accident?
North Carolina law requires you to stop and remain at the scene of an accident that results in bodily injury, death, or property damage until the police either complete an investigation into the crash or authorize you to leave. Failing or refusing to stay is against the law. In addition, if a driver chooses to flee the scene of an accident, they can face hit-and-run charges – even if they were not at fault for the wreck.
Hit-and-Run Accident Statistics in North Carolina
Hit-and-run accidents are a significant problem in every state – and North Carolina is no exception. According to data from the National Highway Traffic Safety Administration (NHTSA) and the AAA Foundation for Traffic Safety:
In one recent year, the AAA estimates there were 737,100 hit-and-run crashes throughout the U.S. That's one hit-and-run accident every 43 seconds. Hit-and-run accidents caused over 2,000 reported fatalities in a single year.

The number of hit-and-run accident fatalities has increased by 7.2 percent yearly for over a decade. This rising number is mainly due to increased fatal hit-and-runs involving pedestrians and non-vehicle occupants.

In North Carolina

, there were over 60 hit-and-run crashes one year involving at least one fatality – the seventh-highest number in the U.S. This number is significantly higher than the state's 10-year average of 44 each year.
How Much Does a Hit-and-Run Accident Cost?
The out-of-pocket costs associated with a hit-and-run accident can vary depending on the severity of your injuries, the extent of the property damage, and the types and amounts of insurance coverage available. Common financial costs and personal losses you might incur after a hit-and-run accident in North Carolina include:

Hospital bills and other medical expenses related to the accident

Incidental expenses, such as travel costs for medical appointments

Lost wages due to any time you miss at work during your recovery

Losses in future earning capacity due to permanent crash injuries

Subjective costs, such as pain, suffering, and lower quality of life

Repair or replacement costs for accident-related property damage
Common Injuries Suffered After a Hit-and-Run Accident
A hit-and-run accident can result in severe injuries like any other accident. However, hit-and-run crash victims are more likely to suffer secondary injuries like infections if left at the scene without help. Common hit-and-run accident injuries include:
Back and neck injuries

Airbag and seatbelt injuries

Internal injuries

Broken bones

Dislocated joints

Abdominal injuries

Permanent scarring or disfigurement

Bruises, lacerations, and puncture wounds

Soft tissue strains, sprains, and tears

"Road rash" and other burn injuries

Emotional and psychological injuries

Post-traumatic stress disorder (PTSD)
What to Do After Being Injured in a Hit-and-Run Accident
If you get hurt in a hit-and-run accident in North Carolina, you should:
Stay put and call the police

 – You don't want to risk facing hit-and-run charges of your own. Find a safe place to stop at the scene and contact the police.

Document the accident

 – Take photos of the accident scene, damage to your vehicle, and visible injuries. Write down everything you remember about the accident while it's still fresh, including what the other driver and their vehicle looked like.

Seek medical attention

 – If you didn't already receive emergency medical care, go to the doctor as soon as possible to have a medical professional diagnose, treat, and document your injuries.

Document your recovery

 – Start a pain journal to record the details of your recovery, such as your daily pain levels and physical limitations.

Gather essential documents

 – Make copies of your medical bills, medical records, and documents that show proof of your financial losses, such as pay stubs or bank statements.

Contact your insurance provider

 – Insurance policies usually require you to notify your insurance provider within a specific timeframe to claim compensation from your policy.

Watch what you share with others

 – Avoid sharing unnecessary details about the accident with others or posting photos or updates about it on social media.

Contact a car accident lawyer

 – Get in touch with a hit-and-run accident lawyer as soon as possible so they can protect your rights and maximize your compensation from all available sources.
Who Is Held Liable for My Injuries If the Police Cannot Find the At-Fault Driver?
In many cases, the police don't find at-fault drivers after hit-and-run accidents. If this happens to you, you could seek compensation from your insurance provider for your injuries. It could pay for your damages and related losses if you have uninsured motorist (UM) or medical payments (MedPay) coverage. And if you exhaust the limits of your auto insurance policy, you could also file a claim with your health insurance carrier.
What Compensation Can I Get After a Hit-and-Run Accident in NC?
The amount of compensation you can get from a hit-and-run accident claim will depend on several factors, including the accident's severity, the options for financial recovery available, and whether the at-fault driver is found. The best way to determine the full value of your injury claim and maximize your settlement after a hit-and-run accident is to work with a knowledgeable local attorney.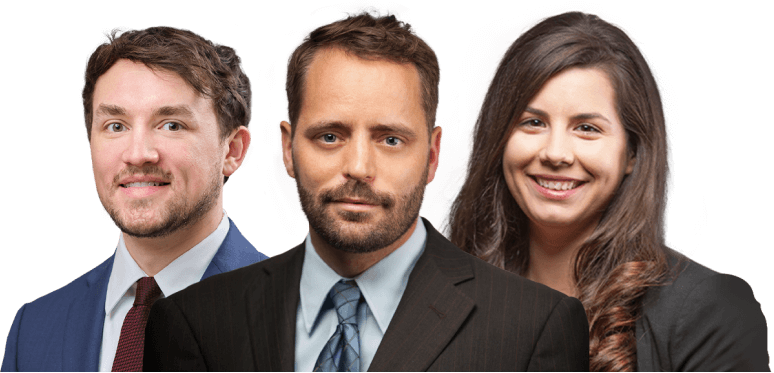 Hire the Hit-and-Run Lawyers in Durham, NC
If you got hurt in a Durham hit-and-run crash, you must speak with a car accident attorney who can explain your legal options and fight for maximum compensation. Contact Kreger Brodish LLP to learn more about how we can help in a free case review with a hit-and-run accident attorney.