North Carolina Motorcycle Helmet Law

Traveling by motorcycle in North Carolina is an increasingly popular way to get around the Tar Heel State. Unfortunately, more motorcycles on the road can lead to more motorcycle accidents, often caused by careless drivers or poor road conditions. In addition, because motorcyclists have little protection in a crash, they are at greater risk of serious injury. This is why North Carolina has laws to keep motorcyclists safe on the road, the most important being its motorcycle helmet law.
Unfortunately, motorcyclists are susceptible to serious head injuries in an accident, resulting in severe or fatal consequences. Because motorcycle operators are at high risk of suffering catastrophic injuries in an accident, wearing a helmet is crucial to increasing the likelihood of surviving a crash.
If you were hurt in a motorcycle accident that someone else caused, you might be owed compensation for the harm you suffered. At Kreger Brodish LLP, we are committed to providing outstanding service and aggressive advocacy to every client. For over a decade, our legal team has protected the rights of injury victims across North Carolina. Let us help you seek the total and fair compensation you deserve for your injuries. Contact our office for a free case review with a motorcycle accident lawyer to learn more about your legal options.
North Carolina Motorcycle Accident Statistics
According to the North Carolina Department of Transportation (NCDOT), motorcycles represent about two percent of registered vehicles statewide, but motorcyclists account for nearly 10 percent of all traffic fatalities. The NCDOT reported more than 3,400 motorcycle accidents statewide in one recent year. Of these, 182 resulted in deaths, and 2,684 resulted in injuries. Overall, 176 motorcyclists were killed, and 2,805 were injured statewide.
Although helmets and mandatory helmet laws save lives, there continue to be fatal motorcycle accidents on North Carolina's roads each year. These collisions are often caused by careless motorists, poor road conditions, or bad weather. Therefore, wearing a helmet is one of the most critical steps to protect yourself.
What Are the Motorcycle Helmet Requirements in NC?
North Carolina's universal motorcycle helmet law requires all motorcyclists and passengers to wear helmets when the motorcycle is in operation, regardless of age or experience. A helmet must be properly secured to a rider's head and meet the minimum performance requirements set by federal regulations. To comply with these requirements, a motorcycle helmet must have a:
Thick inner liner – A motorcycle helmet must have a firm inner liner made of polystyrene foam with a thickness of about one inch. Sometimes, this inner liner is covered with a comfort liner. However, the inner liner's thickness should still be noticeable. Helmets that do not comply with this requirement often have a thin, soft foam padding or no liner at all.
DOT sticker – All motorcycle helmets that comply with state and federal laws will have the "DOT" symbol permanently installed by the manufacturer on the back of the helmet. A helmet that comes with a separate DOT sticker is not compliant. DOT stickers purchased separately and then placed on a helmet are not valid under the law.
Manufacturer's label – A helmet that meets required safety standards will have a permanently attached label inside the helmet. The label will include the manufacturer's name or identification, the precise model of the helmet, the size, the date of manufacture, the type of materials used in the construction of the shell and liner, and an instruction label for cleaning and care of the helmet.
Motorists who violate the motorcycle helmet law in North Carolina will be subject to fines of up to $25.50 plus court costs.
What Other Safety Gear Should Motorists Wear in North Carolina?
While a motorcycle helmet is the only piece of personal safety equipment legally required in North Carolina, certain other non-mandatory gear can decrease the chances of a collision and reduce the risk of injuries in a crash. This safety gear includes the following:
High-visibility (hi-vis) vests or jackets – Motorcycle accidents often occur because other road users do not see motorcyclists until it is too late to avoid a crash. Hi-vis clothing usually comes in neon colors and has silver reflective tape. Wearing these vests or jackets is an excellent way to increase your visibility on the road and reduce the risk of an accident.
Safety goggles and face shields – When traveling at high speeds, motorcycle riders may encounter strong winds that can cause their eyes to become dry if they are not protected. This can make it difficult for motorcycle operators to see and respond to road hazards. Eyes are also vulnerable to flying insects and small pieces of debris that could impair a motorcyclist's vision. Wearing goggles or a face shield is an excellent way to protect your eyes from these potential problems.
Thick gloves – Gloves can significantly improve a motorcyclist's grip on the handlebars and brakes. They can also protect a rider's hands from road rash in a collision that throws the rider off the motorcycle. Be sure that your gloves fit properly so you can operate your vehicle safely while wearing them.
Sturdy boots – Motorcycle boots with thick soles can prevent injuries to the bottoms of the feet if a rider must stop quickly. In a crash, they can protect against broken bones or lacerations that regular shoes would not prevent. Sturdy boots also ensure that the foot is securely positioned when operating the clutch.
Long-sleeved riding jacket – Even in warm weather, a long-sleeved jacket is essential to protect a motorcyclist's skin from road rash and lacerations in an accident. Jackets made from leather or a sturdy synthetic material are the most effective.
Thick pants – A pair of thick motorcycle pants will help protect the skin on a motorcycle rider's legs if they are involved in a collision.
What Damages Can You Recover for a Motorcycle Accident Claim?
A motorcycle accident attorney can estimate how much compensation you are owed by calculating your financial losses. They can also determine the value of personal losses that do not have an easily quantifiable monetary value. You might be entitled to compensation for:
Medical costs related to treating your injuries, including hospital stays, doctor's appointments, physical therapy, medications, and medical equipment
Lost wages if you cannot work while recovering from your injuries
Loss of future earning capacity if your injuries result in a permanent disability that prevents you from returning to work
Transportation costs if you must travel for medical treatment
In-home care or assistance
Physical and emotional pain and suffering
Loss of quality of life due to physical scarring or disfigurement
Costs of repairing or replacing your damaged property
How Can a Motorcycle Accident Lawyer Help If You Were Injured?
If you have been injured in a motorcycle accident, you might feel overwhelmed and unsure of what to do next. In addition to dealing with severe physical pain and emotional trauma, you may face expensive medical bills, lost wages, and the costs of repairing your motorcycle. However, you might be entitled to compensation for these losses.
A  motorcycle accident lawyer at Kreger Brodish LLP can help you pursue the financial relief you need. With over a decade of experience advocating for injury victims in North Carolina, we have the skills and resources to build a solid case in your favor. When you hire us, you can rest assured that we will help you by:
Answering all your questions, listening to your concerns, and explaining your rights and legal options
Investigating the facts and circumstances of the accident to determine liability
Gathering helpful evidence to support your case, including the accident report, eyewitness statements, and testimony from experts
Identifying all potential sources of compensation, including insurance claims
Handling all necessary paperwork and keeping track of important deadlines
Communicating with insurers and other third parties on your behalf
Negotiating with the insurance company to reach a full and fair settlement
Representing you in court, if necessary, to help you seek the maximum compensation you are owed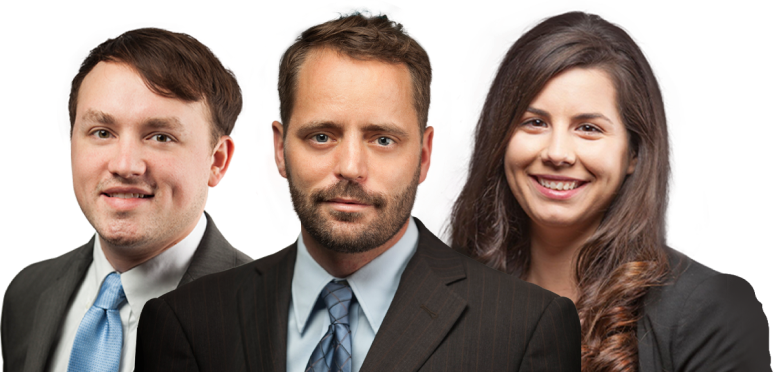 Contact Our Motorcycle Accident Attorneys to Get the Compensation You Deserve
If you were injured in a motorcycle accident in North Carolina that was someone else's fault, you should not bear the financial burden of another road user's actions. The experienced motorcycle accident attorneys at Kreger Brodish LLP can help you seek justice through financial compensation. Contact our office today to speak with one of our compassionate, committed Durham motorcycle accident lawyers at no cost to you. We look forward to meeting you, learning more about your case, and finding out how we can help during this difficult time.