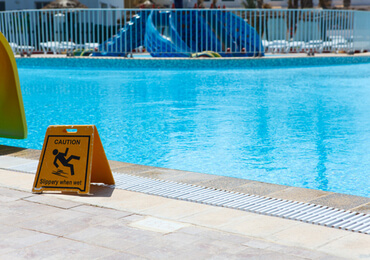 All swimming pools should adhere to the rules and regulations implemented in order to practice proper safety and caution.
While this expectation seems reasonable, often times accidents – ranging from minor to severe – occur at the swimming pool.
Causes
Swimming pools can be a dangerous place for young children and those that are not familiar with knowing how to swim. While it is important for adults and children alike to practice safety when visiting a swimming pool, the owners and management of swimming pools are obligated to follow certain safety standards. If a swimming pool fails to maintain standards to keep its visitors and swimmers safe, serious injuries or even death can occur.
Common causes of swimming pool injuries or deaths include:
Drowning
Burns or injury caused by pool chemicals
Distracted lifeguards
Poorly trained lifeguards
Improper marking of swimming pool depth (the shallow end versus the deep end)
Faulty gates, latches, or fences
Poor supervision of children
Slips or falls
Defective or improper diving boards or other equipment
Liability
No matter the cause or injury suffered, it is important to determine fault and legal liability. Kreger Brodish attorneys are available to assist in filing a possible personal injury claim against the at fault party. Kreger Brodish can help identify the negligent party, and fight to obtain the best possible result in your case.
Attractive Nuisance
In North Carolina, owners are swimming pools should be aware of a legal doctrine called Attractive Nuisance. Attractive Nuisance is a legal doctrine that can place liability on the owner of a swimming pool who does not take proper precautions to protect children from the pool, even if the children are trespassing. According to the doctrine of Attractive Nuisance, if the owner of a swimming pool knows or has reason to know that children are likely to trespass in an attempt to access the swimming pool, then the owner of the swimming pool must take reasonable measures to prevent the trespassers from accessing the swimming pool and being injured or killed.
For more information, feel free to look through our North Carolina Personal Injury FAQs. Call Kreger Brodish at (888) 820-5885 to speak to a North Carolina Personal Injury Lawyer today.
Call Kreger Brodish at (888) 820-5885 to speak to a North Carolina Personal Injury Lawyer today.