Durham Personal Injury Lawyer

At Kreger Brodish LLP, we have successfully represented thousands of accident victims coping with a wide range of injuries. We understand how stressful life can be for people who are coping with physical pain while struggling to get back to work and take care of their families. Physically, emotionally, and financially, it can be overwhelming. Our North Carolina personal injury lawyers are here to help.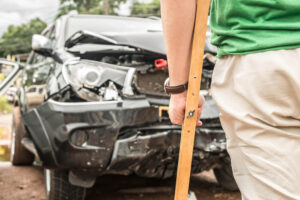 Our respected team has more than a decade of experience helping clients navigate tough personal injury claims. We have earned a reputation for taking on big-name insurance companies and securing maximum payments for our deserving clients. With extensive experience working both for and against large insurance companies, we have the knowledge and skills necessary to fight for the justice you deserve.
Contact us now for a free consultation with a trusted North Carolina personal injury attorney. We do not charge any fees upfront to start work on your case. In fact, you only pay us if we recover money for you.

Common Types of Cases Our Durham Personal Injury Lawyers Handle
Kreger Brodish LLP represents individuals and families who have been harmed due to someone else's negligence. Many of the personal injury claims we handle involve:
If you are ready to discuss the details of your case, please reach out. Our attorneys are here to answer your questions and help you understand your legal rights after a serious injury.
Do You Have a Personal Injury Case?
Not every accident will result in a personal injury claim. You will need to be able to show that someone else was responsible for your accident, and that you suffered damages as a result. The value of your personal injury case depends on a variety of facts, all of which are unique to you, your injury, and your case.
Important questions to consider include:
Was someone else responsible for your accident?
What injuries do you have?
Have you received treatment for your injuries? What other medical treatment do you need?
Is there insurance that covers your injury (for example: another driver's auto insurance or insurance for a negligent property owner)? What are the policy limits of the insurance coverage?
Were you at work when you were injured?
Will your injuries result in you missing work or losing income?
Have your injuries resulted in a permanent impairment or disability?
Are your injuries affecting your quality of life?
The smartest move you can make after any accident is to speak with a trusted North Carolina personal injury lawyer. At Kreger Brodish LLP, we'll review your case for free with no obligation to you.
How Much Is My Personal Injury Case Worth in Durham, NC?
North Carolina law allows accident victims to recover a variety of damages from the party responsible for their injuries. Some types of damages are available in every personal injury case, and some types of damages are only available under limited circumstances.
As part of your personal injury case, the law may entitle you to:
Compensation for pain and suffering
Reimbursement for missed paychecks if you had to take time off work to recover
Payment of your outstanding medical bills
Reimbursement of your out-of-pocket expenses, co-pays, and other payments you have made toward your medical treatment
Payment for permanent injuries, impairment, or disabilities you have suffered as the result of your accident
Payment for future medical care, physical therapy, surgery, or other treatment
Reimbursement for medical devices, such as canes, crutches, prosthetics, wheelchairs, wheelchair ramps, or walkers
The costs to repair your vehicle, or compensate you for the total loss of your vehicle if you were hurt in an auto accident
The costs to replace your personal property that may have been damaged in your accident or injury, such as your cellphone, glasses, laptop, or clothing
Reduced earning capacity for the future if you cannot return to your previous level of work
Payment for disfigurement or scars your injuries have caused
Compensation for the negligent infliction of emotional, psychological, or cognitive distress or harm caused to you
Punitive damages, which may be awarded to punish the defendant in cases of extreme recklessness or negligence
At Kreger Brodish LLP, we focus on maximizing the value of your claim. Our North Carolina personal injury attorneys will work with industry-leading experts to thoroughly assess your damages and demand the full compensation you deserve.
What Factors Can Affect the Value of Your Personal Injury Case?
The value of your personal injury case depends on the details. This includes the severity and permanence of your injury, the types of medical treatment you have received and will receive in the future, and the overall effect your injury has had on your life and will have on your life going forward.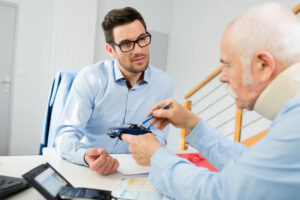 There is no formula for valuing a personal injury claim. The value of a personal injury claim is determined by a jury. When a jury decides how much money to award a personal injury victim, the jury is not given any formula to use. The jury is given evidence, typically in the form of testimony, regarding the harm that has been done to the victim. Using this evidence, the jury has to decide how much money to award the victim.
However, although there is no formula for a jury to use, insurance companies certainly have an approach to valuing personal injury claims for negotiated settlements. When an insurance company evaluates your personal injury claim, it compares the circumstances of your injury to injuries that the insurer has previously settled. Then the insurance company compares the factors in your personal injury case to other personal injury cases that it has settled or taken to trial.
Many factors can influence how the insurance company values your claim, such as:
The severity of your injury
The type and amount of your medical bills
Whether you have any permanent injuries or scarring
How the injury affected your employment and lifestyle
Whether you will make a good witness
Whether the person who caused the accident will make a good witness
Whether your doctor will make a good witness
Whether you failed to follow your doctor's medical advice
Whether you received unnecessary medical treatment
The insurance company will also take into account whether you have an attorney who is prepared to go to trial. Litigation is time-consuming, risky, and expensive for insurance companies. It is usually in their best interests to reach a full settlement rather than letting a jury decide.
If you'd like to talk more specifically about the value of your personal injury claim, please contact us today for a free consultation with a North Carolina personal injury attorney.
What to Expect in the Personal Injury Claims Process
The claims process can seem complex. But our lawyers handle all the details of your case from start to finish. Here's what you can expect:
We will start by notifying the insurance company that we represent you. We will ask them to direct all of their communications to us.
We will then investigate and assess your personal injury claim. We typically call witnesses, visit the scene of your accident, and obtain medical bills, medical records, wage loss records, and other documentation of damages.
Our team will consult with you to evaluate your personal injury claim and decide an amount to demand from the insurance company.
We'll then send a demand to the insurance company and attempt to negotiate a settlement of your personal injury claim.
If we cannot reach a fair personal injury settlement, we'll file a lawsuit and start preparing for a trial.
Your role during this entire process is just to continue treatment and focus on your recovery. We take care of the rest.

Statute of Limitations for Personal Injury Lawsuits in North Carolina
In North Carolina, you generally have three years to settle your personal injury claim or file a lawsuit. However, there are different statutes of limitations, so it is important to contact a North Carolina personal injury attorney as soon as possible.
After an accident, a lawyer will want to begin investigating your case immediately to preserve the evidence and handle all communication with the insurance companies. It takes time and a lot of legal legwork to craft a personal injury case, so the sooner you speak with an attorney, the better off you will be.
What You Need to Know About Personal Injury Lawyer Fees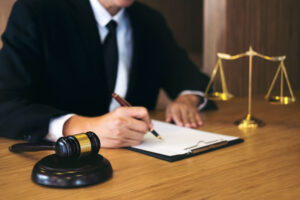 Like most North Carolina personal injury attorneys, our law firm works on a contingency-fee basis. This means that we earn a percentage of your recovery (i.e., we only earn a fee if we get you a winning verdict at trial or a negotiated settlement). Our contingency fee varies and is set case-by-case. It is typically one-third but depends on how your case is resolved.
In addition to our contingency fee, there are certain costs, such as expert witness fees, court filing fees, or medical examination fees, that we will pay for and only be reimbursed if we get you a winning settlement or verdict.
If you have any questions regarding our fee structure, please feel free to contact us. We'll be happy to answer your questions.
Can I talk to Kreger Brodish LLP about my injury case for free?
Yes. We offer free consultations on all injury matters. If you want to talk to us, just call us or contact us online. Our attorneys can do phone consultations, email consultations, or in-person consultations. We handle personal injury cases throughout the state of North Carolina and are available to meet with you wherever is most convenient.
Dealing with the Insurance Company After an Accident in Durham
Dealing with an insurance company after an accident is tricky. Remember, the insurance adjuster's job is to minimize the value of your claim or deny it altogether if they can. Here are some of the questions people typically ask us about talking to an insurance adjuster.
Should I speak to an insurance adjuster after my accident? Should I agree to give the insurance adjuster a recorded statement?
No. The insurance adjuster is seeking information that can weaken your claim (such as you failing to adequately describe all of your injuries) or information that can lead to a denial of your claim. By speaking to you and gathering information about you, the insurance adjuster and the insurance company are gaining leverage on you. They are learning about your prior injuries, any prior accidents, where you work, where you live, your marital status, your version of what happened in the incident that caused your injury, etc.
The flow of information is completely one-sided. The insurance company won't answer any of your or your attorney's questions, such as what are the at-fault party's insurance limits, etc.
You are under no obligation to cooperate with an insurance adjuster from someone else's insurance company. (The same is not true if the insurance adjuster is calling from your own insurance company, though.) You should avoid speaking to an insurance adjuster until you have decided how you will handle your claim.
If you are considering speaking with an insurance adjuster, discuss your case with a North Carolina personal injury attorney first to get some counseling on what types of questions and answers to avoid.
So if I'm going to avoid speaking to the insurance adjuster, what should I say when an adjuster calls me?
First, regardless of what you say, always be polite and civil. Although the insurance adjuster is not trying to help you in your case, the adjuster is the one with whom you will ultimately have to try to reach a settlement. So now is not the time to make an enemy.
Our suggestion is to simply thank the insurance adjuster for calling and let him or her know that you:
Haven't made a decision on whether you'll hire an attorney
Haven't made a decision on whether you'll give the insurance adjuster a recorded statement
Are focusing on recovering
Will call the insurance adjuster when you have any updates
If you are receiving calls from an insurance adjuster and are having a difficult time getting the calls to stop, talk with a North Carolina personal injury attorney about your options.
Should I sign the medical authorization forms that the insurance adjuster is asking me for?
No. These medical authorization forms are very broad and allow the insurance company to obtain all of your prior medical records (from your visits to the doctor long before you were injured). Giving the insurance adjuster your old medical records is bad because the insurance adjuster may see previous injuries you sustained and suggest that your new injury was not caused by your recent accident. (Therefore, the insurance adjuster will argue you shouldn't be compensated for your injuries.)
The insurance adjuster does need to obtain all of your medical bills and medical records that are specifically related to your injury, though, so you will have to hand those over. A North Carolina personal injury lawyer can help you provide a medical release that limits the insurance company's access to specific medical providers and to only medical bills and medical records related to your specific injury.
Personal Injury FAQs
First, use your own health insurance policy to pay your medical bills. If you are receiving medical bills and are not sure what to do with them, contact your doctor's office or speak with a North Carolina personal injury attorney about your options. The last thing you need is for your medical bills to end up in collections.
Ultimately, either you or your health insurance company will typically get reimbursed for the payment of your medical bills when your personal injury case is resolved.
If you were hurt in an auto accident, you can also call your own car insurance company and ask if you have Medical Payments coverage. If you do, submit your medical bills to your own auto insurance company as well. (Your auto insurance premiums will not increase due to your using your Medical Payments coverage.)
Sometimes, yes. Many attorney advertisements suggest that you will always get more money if you hire a lawyer, but that's not always true. In some cases, you can get more money by handling your own case and avoiding having to give 25% to 40% of your award to an attorney.
An example of a case you can do just fine handling yourself is one where you had very minor injuries, very limited medical treatment, were fully recovered upon your release, and there is no dispute regarding who is at fault. Paying an attorney to negotiate on your behalf really isn't going to increase the amount of money you are able to recover, as the total value of your claim typically isn't very high and is not the subject of a significant dispute.
The more severe or complex your injury, or the more uncertainty around who is liable for your injury, the more value you will get out of hiring an attorney.
If you are wondering whether you need an attorney for your case, we'd be happy to guide you through the process. Just contact us for a free consultation, and we'll give you our thoughts on your case.
Most cases take time to resolve. So unfortunately, you're going to have to have some patience. In terms of a time frame, we typically split the phases of your personal injury case into three categories:
The medical treatment phase
The negotiating phase
The trial phase
Once you have finished your medical treatment, we'll prepare a demand to send to the person liable for your injuries (or their insurance company). Following our demand, we'll negotiate to see if we can reach a settlement on your case. This negotiating phase can be very quick (if our demand is met or if it becomes apparent that our demand will never be met), or it can take several months.
If we reach an impasse negotiating and can't reach a settlement, then we will move to the trial phase. This phase can take about two years from the filing of your lawsuit to the end of your trial, and this time frame can vary depending on your case and the court docket.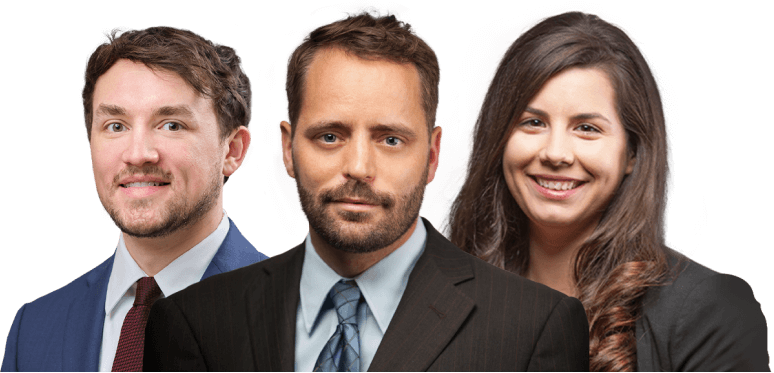 Reach Out to an Experienced Personal Injury Lawyer in Durham, NC Today
By choosing Kreger Brodish LLP to handle your personal injury case, you can keep your focus on your medical treatment and recovery. We'll be staying in touch to give you updates on the status of your claim and to get updates on the status of your medical treatment and your healing process. Otherwise, you won't spend a lot of time working on, or worrying about, your case.
We offer free consultations for all of our prospective injury clients. So there's no risk to getting the legal advice you need. Contact us now to get started.
Our North Carolina personal injury attorneys advocate for accident victims throughout Durham, Raleigh, Greensboro, Cary, and the surrounding areas.